Festival season is starting and for some, it's all about the parties and for others, it's all about the music and friends.  Coachella is now a world-renowned event that so many people look forward to, but I personally think there are so many different ways to enjoy this dessert festival.  I got this idea for this post after talking to some of my friends who are excited about going to Coachella, but don't feel like raging. 🙂  So if you're not the party type or if you want to try to take things easy, I've got a few tips for you!
Image credit.
Rent a house
For those who want a more relaxed experience, I suggest renting a house with your closest friends.  The campsite can get really loud into the early hours of the morning, and hotels are sometimes a hub for parties.  For someone who enjoys peace and quiet at night, you'll be so much happier sleeping in a quiet neighborhood around people you trust.
I've had great experiences using Airbnb and it's pretty easy to find a property that fits your needs.  Also, Palm Springs has some amazing properties that are so beautifully decorated that it almost makes you not want to leave.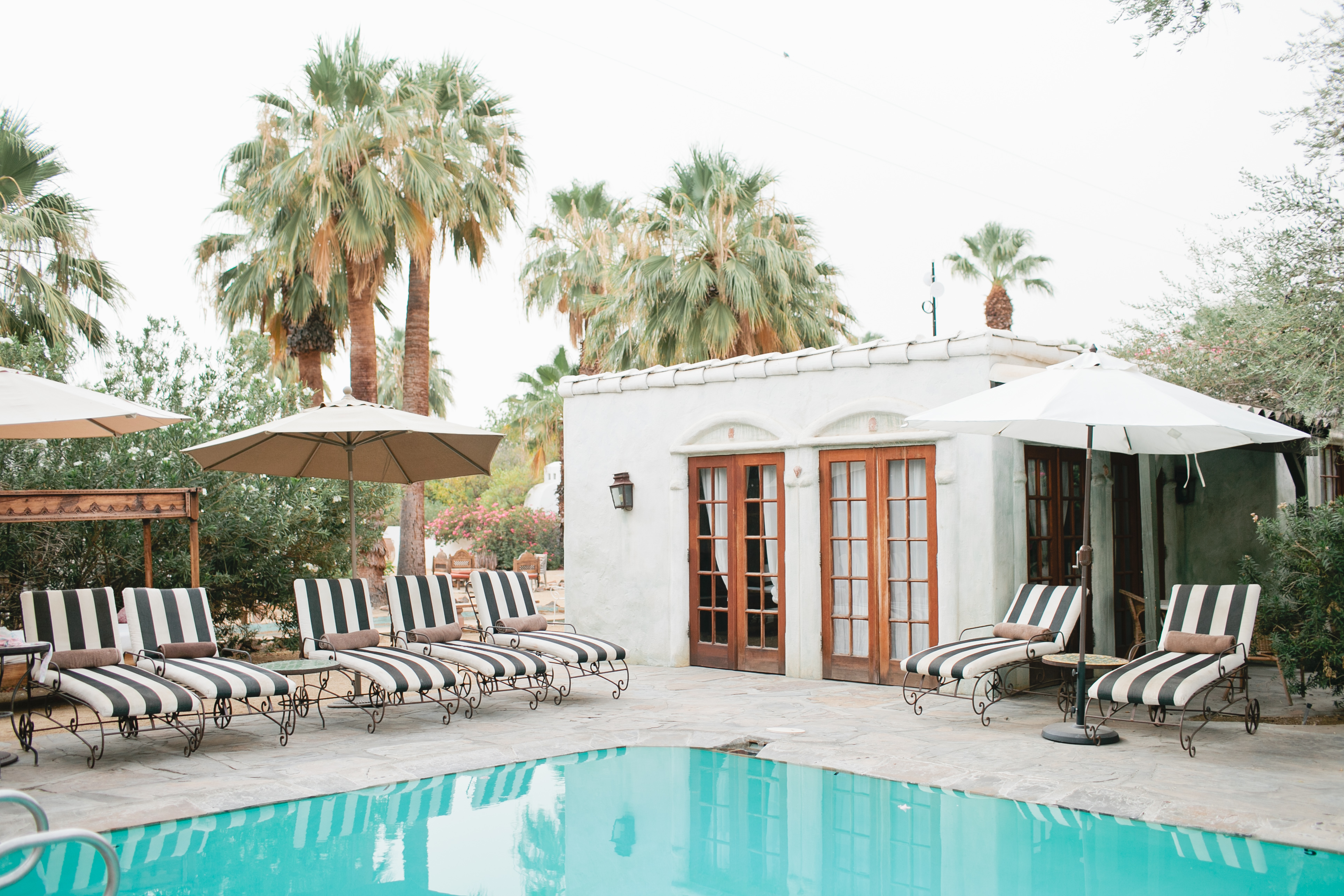 Image here.
During the day, Coachella is a bit much for me.  Being in the heat from morning till midnight can be exhausting, so unless it's your first time going or there's an act you really want to see, I really suggest using the daytime to relax and prepare for the night acts.  So put on some comfy loungewear like this bralette and cami from PJ Salvage and just chill…
Pool time and BBQ
Especially for Coachella, I look for houses that have a pool or backyard.  One of the things I love to do when on vacation with friends is to have BBQs together.  It's a nice way to hang out at your own pace and it's also cheaper to make your own meals at home too!
Grocery stores are really easy to find and although I love healthy snacks, be sure to grab some snacks and drinks that the whole group will enjoy.  Here are some items on my grocery list this year:
Burger patties
Burger buns
Chips (i.e. tortilla, potato, etc)
Dip (i.e. Guacamole)
Corn salad
Fruit
Drinks
Sweets
PJ Salvage Cami  | PJ Salvage Bralette | Nad's Ultra Smoothing Exfoliating Wax Strips | Renpure Black Label 100% Organic Coconut Oil
Have a Pamper Sesh
Another way to relax during the day is to have a pamper session with friends!  Pampering myself is one of my favorite things to do and it's even better when I get to do it with my friends.
If you want to do your nails, I suggest bringing nail strips so that you can easy stick them on without bringing glass bottles.  Plus, with nail strips, you can have cool nail art without spending a lot of time doing them.
I got these Nad's Ultra Smoothing Exfoliating Wax Strips from my Babbleboxx and I immediately knew that these would be great for festivals.  These wax strips prep, exfoliate, and wax really fast.  Plus, you never know when one of your friends might need some too!
To relieve hair and skin from the desert heat, use products with moisturizing ingredients like unrefined coconut oil.  The Renpure Black Label 100% Organic Coconut Oil can be used as a mask, as a really rich body moisturizer, or even makeup remover!  There's also the Renpure Black Label Coconut Water Hydrating Shampoo and Conditioner if you're looking for more TLC for your hair.  Decant these products into smaller containers and they'll be super travel-friendly!
Explore Palm Springs
And if you're itching to explore Palm Springs, I say do it!  It once was a hangout for Hollywood's Rat Pack but is now full of stylish boutique hotels, cool bars, and amazing restaurants.  It's currently going through a revival and is now a destination for foodies, hipsters, and tastemakers.  Take in the natural scenery and get your Instagram pictures at places like the Moorten Botanical Garden, Norma's, El Jefe's, King's Highway, or by observing all the cool architecture.
Image credit.
Purse Essentials
My favorite time to go to Coachella is right before sunset.  There's something so magical about seeing the Ferris wheel and the palm trees with the sunset.  The weather will also be cooler and in my opinion, the best acts are at night.  I find Coachella at night much more enjoyable so I like to save my energy until then.
There are a few things I like to bring with me – iPhone battery pack/charger, hair ties, eye drops, hand sanitizer + toilet paper (trust me, you'll thank me later), a lip balm, and a scarf or jacket to save you from windstorms or breezy nights.  It can get really dusty, so bringing a scarf or jacket can shield your face and then having some eye drops, like the Clear Eyes® Pure Relief preservative free eye drops (get a $3 coupon here), can relieve irritated or red eyes.  I also recommend wearing closed-toe shoes.  There's a lot of walking, so make sure you stay comfy!
Set a Meeting Place
No matter what time of day, Coachella will be flooded with people.  So as soon as you get there, set a meeting place with friends.  I can't tell you how many times I've lost a friend in the crowd and cell phone reception can be really spotty too.
I hope this was helpful to some of you!  For those who are all about the parties, I gotchu – that guide is coming up too! 🙂
xoxo, Alyson